Meet the Crew
The 2012 Field Crew for the Johnson's Island Civil War Prison Archaeological Field School, Heidelberg University, Ohio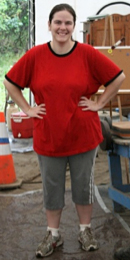 Hello, my name is Heidi Miller and I am 26 years old. I recently graduated from Ohio University with a Bachelor's Degree in Anthropology and plan to attend grad school to specialize in Osteology and Bioarchaeology. Johnson's Island is my firsts field school and I know the experience gained will help me to achieve my goals within archaeology.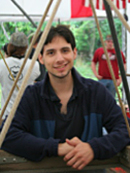 My name is David Gold. I am 23 years old and a native of Raleigh, North Carolina. I am an undergraduate of NC State with a BA in anthropology. At NC State I completed an independent study in the university's archaeology lab. In 2011 I participated in a study abroad archaeological field school in Carriacou, in the Grenadines. My future goal is to be a historical detective, an archaeologist.

My name is Brandon Herrmann and I am going into my sophomore year of college at Heidelberg University. The major I am pursuing at this time is Anthropology and have been interested in it since as far back as I can remember. Upon completing college and getting my degree, I will be attending grad school and seeking a sub-field within anthropology. This sub-field will be within maritime archaeology. Overall, I have high expectations for a job somewhere in an underwater based field and am looking forward to what the future has to offer.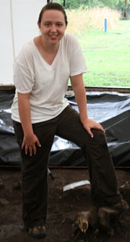 My name is Allison Hermance-Moore, and I went to Ohio State University my freshman year, and will be going into my junior year at the University of Kansas. My archaeological interests focus primarily on Celtic remains in England and Wales. I'm doing this excavation with Heidelberg because I find Civil War history fascinating.

My name is Amanda Holdeman. I'm from Dayton, Ohio and I go to Kent State University, where I will be a junior majoring in archaeology and minoring in geology. I'm excited to call Johnson's Island my first field school, but I hope to end up working with excavations in Israel.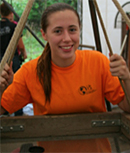 My name is Lyndsay Ballew. I am a Senior majoring in anthropology at the University of Arkansas at Little Rock. I will serve as the UALR Anthropology Club president for the 2012-2013 school year. I plan on doing my graduate studies in archaeology. Although I am not yet sure what culture or part of the world I would most like to study, I am considering marine archaeology. If I could have one super power, it would be time travel…but until I find that genie in bottle, archaeology will certainly suffice!

My name is Amanda LeBoeuf. I am from Shrewsbury Massachusetts and go to school at Elmira College where I am an art major and an anthropology/sociology and history minor. At Elmira New York I am going into my senior year. This has been my second five-week field school. My first one was last summer in Mycenae Greece. After my senior year, I plan on going to graduate school for archaeology with a concentration in ceramics.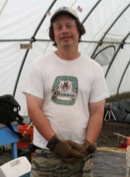 My name is Adrian Niemetz. I am originally from northern Alaska but lived mostly in Germany. I began my archaeological career in 2004 as a field tech for the City Heritage Department in Nurnberg. Since then I have been an adjunct professor at Colorado Mountain College in Leadville, Colorado and a Principal Investigator of the non-profit group Native American Research and Preservation. I have worked on sites ranging from the Bronze Age to World War II. I completed my Associates of Arts at Pikes Peak Community College in Colorado Springs, Colorado in 2011 and am currently a senior at Heidelberg University, but will be studying at the University of Heidelberg, Germany during my senior year. I plan to attend graduate school in Germany and complete a doctorate before returning to Nurnberg to work at my old job.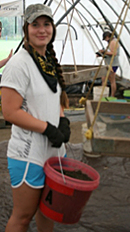 My name is Elizabeth Doragh. I am currently a Junior at Florida State University majoring in Classical Archaeology with a minor in Museum Studies. My interests lie in the art and architecture of Greece and Italy in antiquity, as well as in military history. I joined the field school at Johnston's Island in order to gain more experience in the archaeological field, the uniqueness of the site, and my own personal love for Civil War History.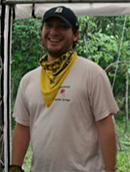 My name is Paul Talpos. I'm from Troy, Michigan, having graduated from the University of Michigan in 2011 with a degree in Communications Studies and a minor in Anthropological Archaeology. At Johnson's Island I hope to gain archaeology experience to help me decide whether archaeology is a career path that I'd like to pursue in the future. In my free time I enjoy sports, adventures, and reenacting scenes from Jurassic Park.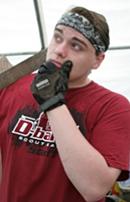 My name is Donald (D.C.) Wheaton III. I am a junior at the University of Edinburgh, Scotland, and am pursuing a degree in History and Archaeology. My interests lie mostly in military and experimental archaeology, with a focus in Iron Age through Medieval cultures of the British Isles. I chose the field school at Johnson's Island for its uniquely well-preserved nature and its military function, and its relative closeness to my home town of St. Clair Shores, Michigan. Besides fulfilling fieldwork requirements, I hope to use this excavation as both a way to improve my skill in the field and as a way to gain hands-on experience with military sites.
Click here to meet the crew from past field seasons!