2007 Field Note 2 - The Good Life: A Day at Hierakonpolis
Salam wah alekum! Greetings from the Hierakonpolis Expedition!
The study abroad experience is exciting in itself; however, we are lucky enough to have the opportunity not only to study in a foreign country, but also to learn about archaeology in the field while we are at it. Living and working at Hierakonpolis we have had to adjust to changes in climate and customs. As two undergraduate college students used to classes starting at 10 am and subsisting on a diet of delivery pizza and soda, the daily regimen at Hierakonpolis has proved to be quite a wake up call--literally!
A typical day at Hierakonpolis starts with the beeping of an alarm around 5:45 am. In a short time, we have gained a mandatory appreciation of (addiction to?) the caffeinating effects of coffee. We eat a quick breakfast, ready our supplies and head to the dig site. Our particular site, HK 24B, is approximately a kilometer from the dig house, so the brisk walk in chilly December air gets us ready for the busy day to come.
The first order of business is to set up the units (loci) we will be working on during the day. This consists of setting stakes, measuring boundaries, and using advanced technology (tape measures, string, and the Pythagorean Theorem) to assure accurate angles.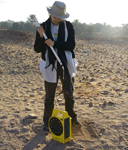 Melissa sets up the Gizmo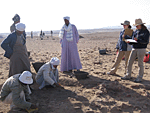 Learning from the experts at HK 24B
One instrument that we find particularly useful is the Zip-Level, lovingly nicknamed "Gizmo," which is an electronic liquid level that measures elevations from a known, fixed point near the excavation area. We've found it remarkable how the bottom level of a locus can change several centimeters after a particularly strong sandstorm. The Gizmo saves us the pains of using manual levels so we can get the real fun started faster and more efficiently.
After setting up our loci we create daily goals. We then delegate individual daily tasks such as working in the sherd yard with Jane Smythe, our token Aussie and resident ceramicist, managing the bag list, and mapping. We are also expected to take notes on our findings as the day progresses.
To our great surprise, the majority of actual digging in Egypt is done by hired Egyptian workmen. Our experiences in North American field schools have been different. There, students do most of the manual labor. We admit there was a little wave of disappointment when we found out hired men would do the bulk of the digging. However, it was quickly apparent that these workmen are not only qualified, but highly experienced, having worked for the expedition for up to ten years. The dirt and sand seems to fly off the features with each meticulous scrape of their trusty Marshalltowns, the brand of masonry trowel preferred by archaeologists. Baskets made from recycled car tires--called zambiels--full of potsherds and sand are carried away to the sherd yard or the refuse heap, respectively. The trowel-happy holes created by undergraduate students fail miserably in comparison.
This is not to say that we stand around with our hands in our pockets for six hours a day. Because of the careful skill of the workmen, us archaeologists-in-training are freed up to observe the subtle changes in soil color, texture, and consistency. The tedious (but necessary) practice of mapping, taking elevations, sorting artifacts and ecofacts, and general notes takes up more time than we had imagined it would.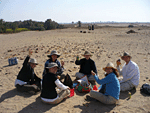 The group takes a break for second breakfast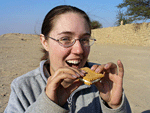 Elena enjoys a Nice-Kiri Sandwich
Around 10:30 am there is a halt in the action for second breakfast. Though we are used to three square meals a day, we happily made room for this extra mealtime (it kind of makes us feel like Hobbits, actually!). We have come to love our Nice-Kiri (sandwiches made of coconut cookies with a cream-cheese wannabe) a Hierakonpolis tradition, chipsies, and mango juice boxes.
Work resumes at 11 am. At this point we must work quickly and efficiently to find a good ending point for the day. A lot can happen to a locus overnight; a strong wind might destroy a carefully mapped feature. But the worst terror of all is the dreaded horde of children who would immediately come to our site to investigate after we left until they found that an alignment of sherds cemented in burnt mud didn't hold much of an attraction.
By 1 pm it is time to pack up for the day. At this time we map the features and other distinguishing aspects of the loci we have worked on during the day, as well as take ending elevations and pictures. We put our equipment away, bring back any special finds or diagnostic sherds for analysis in the lab, and hike back up to the dig house.
With any luck, we'll hear Ali's lunch-bell within minutes of our return. Lunch is always a highlight, not only because of Ali's delicious cooking, but because it is a time to socialize and debrief the morning with our fellow dig-mates and our superiors.
Work is far from over when the lunch dishes are cleared. The few precious remaining hours of daylight are spent working in the lab. Tasks there vary from checking in artifacts off the field inventory list, to drawing diagnostic sherds, to ceramic categorization. On a typical day we might also get personalized tours of the sites at Hierakonpolis from Renée or dabble in experimental archaeology with Jane. If we're particularly lucky, our group might be invited to a home in the local village of Kom el Ahmar for dinner.
| | | |
| --- | --- | --- |
| | Left, working diligently in the lab. Right, Renée shows us other special features at Hierakonpolis. | |
The official workday for students ends in the evening, although we continue to learn as we talk with the veterans and in-house experts of Hierakonpolis. After a light dinner we might engage in a heated game of Sorry!, catch up on journal writing, or even a watch a movie on someone's laptop (Monty Python is quite the crowd pleaser among archaeologists).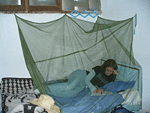 One of our mosquito-proof beds
We crawl into bed around 9 pm, which is quite a change in schedule for these undergraduate residents. Covered in deet and tucked under our mosquito nets, we rest up for the next day.
From sun up to sun down, the day at Hierakonpolis is a constant learning experience. Whether formal methodology learned on the site or experiencing the traditions of rural Egyptian life, every aspect of our stay at Hierakonpolis has been unique.
Ma'aslama! Good-bye!
| | | |
| --- | --- | --- |
| | Left, the Sorry! game gets competitive. Right, the smallest members (Lolita and Puskin) of the expedition ready themselves for a new day. | |