Finishing Up Features
September is upon us, and we're close to completing excavation of the large site components. We are nearly finished digging the robber's trench. The northeastern corner of the building in unit 591 has been excavated down to the gray silt layer in the base of the foundation trench that was also found in units 588, 589, and 590 (see posts by Eleanor and Gwyneth). We haven't uncovered any foundation stones in place at this corner of the building. However, Lyndsay and Laura have uncovered three large cobbles that may prove to be foundation stones in the northwestern corner of the robber's trench. Further excavation this week should tell us for sure.
On the south side of the site, we're almost done with excavation of the millrace outflow. Dan's work over the past week has identified the strategic interface of the wood-lined trough and the millrace outflow in unit 633--the trough appears to run underneath the outflow. In unit 783, Mandy has partly excavated the linear sandstone feature mentioned in Dan's post. It turned out to be relatively shallow and without good definition, leading us to wonder whether it is a natural or man-made feature.
As long as this delightful fall-like weather continues without rain, we should be able to put these respective areas to bed and move to different parts of the site in the near future.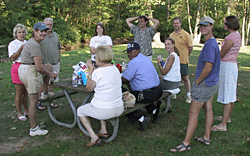 Mount Vernon Archaeology staff and volunteers at the end-of-summer cookout in August.