Geophysical Survey: July 9-13, 2006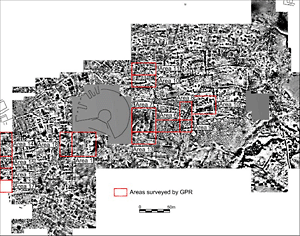 During the last days of their stay, the geophysicists from Ljubljana, directed by B. Music, spent their time on the site proper. In previous years, geomagnetic research on the slopes to the west and south of the Theater, as well as in the large Potters' Quarter, had revealed the existence of a residential area with some large mansions, and an industrial area containing at least 70 kilns or furnaces, respecitvely (see Geophysical Surveys: July 16-26, 2003; June 29-July 29, 2004; July 10-August 11, 2005). Last year's tests with ground penetrating radar (GPR) had produced unexpectedly good results, despite the stony and rocky environment. They showed, in detail, buildings that were buried below those that had previously been made visible through geomagnetism. This year, six areas of the domestic quarter (see: Areas 1, 14-18) to the south of the Theater were re-studied with GPR. In sectors 15, 17, and 18 the GPR "time slices" produced especially clear images of deeply buried structures with regular walls. All of them, however, had slightly different orientations, most likely resulting from the steep slopes in this area.
In the Potters' Quarter, the GPR applied to six sectors showed that the series of small rooms to the south of the Theatre Gymnasium continued further westward than was visible on the geomagnetic map (Area 13). In the industrial quarter proper, the artisanal structures of sectors 10 and 11 could be shown in much better detail than on the former map.