Roman Baths: Aims 2007
We've excavated the Roman Baths at Sagalassos since 1995, thanks to a generous grant made available by the L. Lamberts Van Assche family. The complex was built on a natural hill east of the Lower Agora, as part of a general reorganization of the Lower Agora and its surroundings. Early in the second century A.D., most probably during the reign of Hadrian (117-138), the top of the hill was leveled and all previous constructions were dismantled. At the same time, its surface was enlarged considerably by the construction of a substantial artificial terrace, composed of at least five large vaulted rooms of ca. 100 m each.
In 2007, we intend to continue excavation of the upper floor, focusing on the southern and eastern rooms of the bath complex: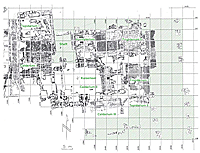 South (caldarium III-tepidarium II): one team will uncover to floor level all southern sectors, reaching as far as the outer wall of the Baths to the west and south, and up to frigidarium I in the east.


East (frigidarium I): we'll continue excavations in the southern and eastern parts of this large room. This work has to be carefully planned in order to avoid obstructing the progress of the other team excavating the southern sectors.


We might continue excavations in the northern sectors of the bath complex or in the central shaft if time allows or if conservation or practical issues (e.g. accessibility of the trenches) interrupts works on the south or east.
Selection of the exact areas of excavation and the progress of the works will depend upon the facilities to remove the excavated soil, ashlar blocks, and rubble efficiently. In all sectors, work has to be planned carefully in order to keep access for our mobile crane to remove large blocks and rubble safely. Progress of the work will also depend on conservation priorities and providing access to the conservation team to all areas.