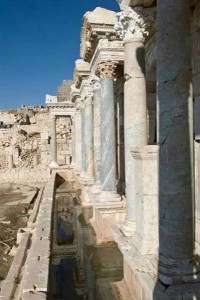 The Antonine nymphaeum, a 9 m high and 28 m long monumental fountain, was constructed at the Upper Agora between 161-180 AD, with the purpose of bringing social and aesthetic aspects to the political centre of the ancient city. The nymphaeum was built of 7 different kinds of stones, where the water used to fall from 4.5 m high cascade in the middle, filling a basin of 81 cubic metres. In addition to the two original Dionysos statues standing at both sides, new statues coming from other buildings were also added to the fountain afterwards. Finally, the building was collapsed completely by a severe earthquake around 650. The fact that most of the building elements still exist in a very well preserved condition, and the podium of the building still in-situ, makes it possible to restore and re-erect the monument by using anastylosis technique.
The aim of the project is to restore and re-erect the monument as much as possible and to give the original function as a fountain back, by the use of still existing spring water. Furthermore, small-scale restorations will be performed around the building & Upper Agora, in order to integrate the monument with its environment.
The restoration of the Antonine Nymphaeum has started in 1998, after the restoration project was approved by Antalya K?ºlt?ºr ve Tabiat Varlƒ±klarƒ±nƒ± Koruma Kurulu (31.07.1998 / no. 3919).
The restoration project consists of four phases;
1. joining all the broken fragments to compose structurally sound blocks and understanding the actual position of the blocks in the building
2. completing the missing parts in the building by re-making of new stone patches and stone blocks and trial of all the blocks in their actual places until the building is completely re-erected
3. dismantling the whole building and the final re-erection process by employing structural connections between the blocks, designed to improve the earthquake sustainability of the monument
4. re-arrangements to be done around the monument for the revival of its fountain function and small-scale restorations to be done at the Upper Agora.
For more, see www.sagalassos.be/en/webreports/2010.