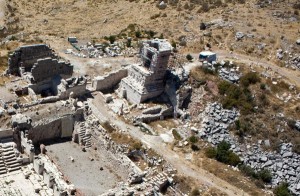 Aims
The anastylosis project of the Northwest Heroon started in 2000 following the permit of the Antalya Council of Monuments (20.03.2000 / Nr 602) and was completed in 2009.
In 2010, the surroundings of the monument will be cleaned and the stone platforms around it will be reorganized so that the monument can be visited easily. The stones belonging to the monument that could not be used during the anastylosis (such as some of the roof blocks) can be exhibited on the ground.
Figure 1: The North-West Heroon and its surroundings
For more, see www.sagalassos.be/en/webreports/2010.