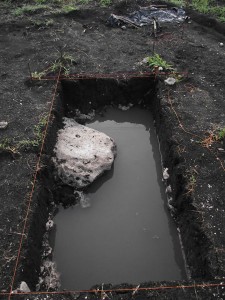 On September 16, hurricane Karl hit the Mexican Gulf Coast. It entered through Villa Rica, the same spot through which Cortes the conquistador first arrived in Mexico. As we were so deeply focused in our research, we didn't know anything about the danger, so our crew decided to spend September 15 (Mexico's Independence Day) at that exact same beach. Luckily, we were back in time to secure the excavation pits and reduce any damages. Unluckily, many people were washed away, together with their houses and cars by the river. Río La Antigua is a very dangerous one, used for rafting and adventure navigation. Hurricane Karl caused major disasters, expanding the river shores for at least 100 meters and growing in height for 5 and up to 7 meters, creating new streams and depositing meters of sedimentation.
Sadly, people from the community whom we cared for are now gone or missing, since security measurements weren't taken, whereas bridges and roads weren't prepared for such a disaster.
Our whole team supported the ones who lost loved ones and homes. We will upload a video of September 17 at the excavations, so that you can observe the situation at a place where, luckily, it didn't affect much compared to communities such as El Mango, El Faisán, and El Salmoral.
As archaeologists, we had to continue with our surveys and excavations. But we couldn't stop thinking about the implications of these kinds of natural events related to pre-Hispanic cultures. Is this the reason why early settlements aren't found in primary contexts? We know that Early Formative societies preferred to settle at the river margins. We do find Early Formative material in our surveys, but it is completely out of context. Probably, other "Karls" have caused this distortion of the original contexts, an issue which we will have to work out in order to explain the complete history of settlement patterns throughout the study region.