Meet the Crew 2006-2011
2011 Field Season
Tyler Putman, Instructor
Tyler gradated from Heidelberg University two years ago and and completed his Masters Degree in Museum Studies.  He has a great knowledge of the American Civil War, historic archaeology, and also the Johnson's Island Prison site.  He is working with the students in the field school assisting Dr. Bush, who will join the field school the last week.
Emily Schoenlein
I am a sophomore at the University of Pittsburgh. Though I am not currently declared I am planning on declaring a major in Anthropology and a minor in French. By participating in the Johnson's Island Field School I hope to gain valuable field experience and decide if archaeology is the path I really want to pursue.
Kimberly Bray
I come from Bangor, Pennsylvania. I took a year at Northampton Community College and then transferred to Mary Baldwin College where I am currently a rising Senior. My major is anthropology, no minor, but an interest in public history/museum studies. When I graduate next year I will either go on to graduate school for archeology or join the Peace Corps for a year or two.
Donald (D.C.) Wheaton III
I am a sophomore at the University of Edinburgh, Scotland, and am pursuing a degree in History and Archaeology. My interests lie mostly in military and experimental archaeology, with a focus in Iron Age through Medieval cultures of the British Isles. I chose the field school at Johnson's Island for its uniquely well-preserved nature and its military function, and its relative closeness to my home town of St. Clair Shores, Michigan. Besides fulfilling fieldwork requirements, I hope to use this excavation as both a way to improve my skill in the field and as a way to gain hands-on experience with military sites.
Megan Hayden
I will be a senior at Miami University in the fall. I am double majoring in history and political science. I picked Johnson's Island Field School for its uniqueness of being a prison for Civil War officers. This field school is a great opportunity for me to gain hands on experience, and learn more about the histories I have spent so much time studying.
Felicia Konrad
I am majoring in anthropology and pre-med at Heidelberg University. I have been interested in archaeology since about fifth grade after participating in a dig at Johnson's Island. In my free time I do American Civil War reenacting along with other living history. After graduating college I plan on possibly going into forensic archaeology.
Meghan Wonderly
I am a student at Oberlin College, having transferred from New York University. I am a writing major, and this is my first archaeological experience.
Corey Dlouhy
I am currently a senior at Heidelberg University from Brunswick, Ohio, majoring in history with an archaeology minor.  I am most interested in museum work or anything in the archaeological field. I play soccer and love visiting museums anywhere I go. The most memorable prisoner of war site I have visited was Andersonville, GA.
Craig Harnagel
I am from Eagan, Minnesota (20 minutes south of Minneapolis). I am majoring in anthropology at the University of Minnesota – Twin Cities Campus. This is my first hands-on experience. I chose Johnson's Island for my field experience because I have a general interest in the Civil War period and had never learned about a Civil War prison in the North.
Heidelberg College Field School 2010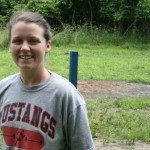 Amanda Breen
I am a senior at Adelphi University in Garden City, New York working towards a B.A. in Anthropology and History. I am interested in working on historic archaeological sites especially from the Civil War time period. Participating in Johnson's Island Field School is an incredible experience during which I hope to improve my archaeological skills and gain more field experience that will be useful when I attend graduate school.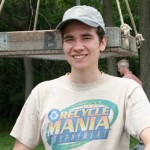 Ian Clements
I am a junior currently attending Drew University in which I am pursuing a major in Anthropology and a minor in Archaeology. I decided to take this archaeological course both for its uniqueness as a site, being a Civil War prison for officers, and to strengthen my own abilities in the field for the future with the experience.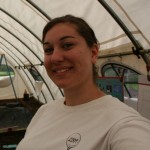 Megan Jones
I just graduated from Wayne State University with a Bachelor of Arts with University and Departmental Honors majoring in Anthropology. My interest is in Forensic Anthropology, specifically aging and sexing human remains. I have chosen this field school to get experience in the field. I want to continue my studies to attain my Masters in Anthropology.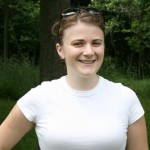 Stefanie Levy
This is my first time with an archaeological field school, and I am eager to get my hands dirty! I am a Dix Hills, Long Island, NY native, and currently reside in Carroll Gardens, Brooklyn. In 2005, I graduated from Boston University with a B.S. in Film and Television, and a minor in archaeology. I have always been torn between pursuing a career in visual arts versus one in archaeology. Since college, I have worked in post production as an Assistant Video Editor and in website development as an Associate Producer, but am starting to feel that I need a career with a little more adventure and a little less desk time. I came to the Johnson's Island Field School to find out if archaeology is really my passion.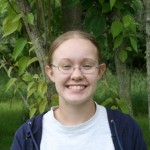 Brandi Oswald
I'm a sophomore at Heidelberg University. I'm majoring in History, with a minor in Archaeology. I'm from Lambertville, MI. I am a Civil War Reenactor and Mark Twain Living Historian. Besides reenacting, I enjoy reading, researching and spending time with family and friends.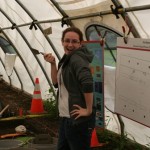 Sara Scholl
I am a Heidelberg University student. I am double majoring in Anthropology and history. I have special interest in Roman and Egyptian history. I would like to become a museum curator after I graduate from college.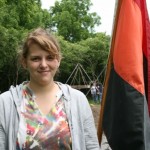 Ashleigh Scully
I just received my B.A. in Anthropology and History from the University of Arizona in Tucson, AZ. I was hooked on anthropology and archaeology after just one class and declared my second major during my senior year. After completing the field school, I plan on gaining employment, most likely in CRM.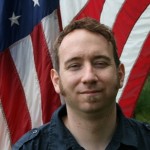 Gino Shifrin
Gino Shifrin came to Heidelberg University from Canada due to his great interest in the American Civil War as well as the need for valuable archaeological field experience. Gino attends the University of Victoria and is currently in his last semester of his undergraduate degree in which he is doing a double major in Anthropology and Political Science. Gino is specializing in Archaeology and Canadian Politics in his respective majors. He plans to use his expertise in these fields to work on behalf of the Provincial or Federal government in his respective nation.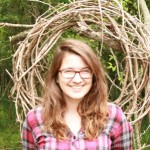 Zoe van Buren
I am a rising sophomore from New York City. I attend Vassar College, where I am studying sociology, anthropology, and German. I was attracted to Johnson's Island by my interest in the day-to-day experience of war as well as in the history and future of the American penal system. I hope that my experience at Johnson's Island will help me plan for a future in archaeology, whether through museum work, field work, or even simply on a volunteer basis.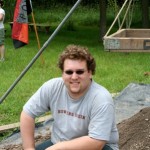 Nicholas Venis
Hello, my name is Nicholas Venis. I attend The Ohio State University where I am currently pursuing a Bachelor of the Sciences in Anthropology. I originally began my College career at the University of Bowling Green Ohio, but I did not decide to major in Anthropology until my first year at OSU. I came to the Johnson's Island Field School to learn archaeological field methods so that I may apply the knowledge I have gained over the past three years. Yet as that I have also minored in History, I have an alternative motive for picking this particular field school. I foster an avid interest in the past particularly for history post-dating the rise of black powder weaponry in Europe. Thus the Johnson Island suites my interests and my desire for archaeological experience. After graduation I plan to work in Cultural Resource Management and may possibly pursue a career in academia.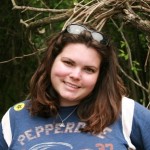 Leslie Salyers

I attend the University of Illinois at Chicago while living in Wheaton, Illinois. If all goes according to plan, I will be receiving my BA in Anthropology at the end of the next school year. While I've taken archaeological field schools before, I enjoyed them so much I wanted to do another. Johnson's Island sounded fascinating out of the hundred or so that I looked through in my advisor's binder. I've wanted to pursue anthropology since I was in 6th grade and visited the Mayan city of Chichen Itza in Mexico. I'm looking forward to the next five weeks!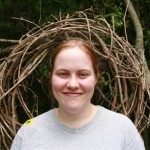 Jana Irving
Jana Irving is a Senior at Central Michigan University and is double majoring in Anthropology and History, with a focus on archaeology. She hopes to focus on Roman, late antiquity archaeology or early Middle Ages, hopefully in Italy. She enjoys reading and traveling.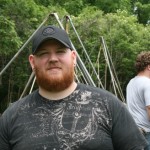 Josh Yammer
My name is Josh Yommer and I am a graduate of Ohio State University. I received my BA in anthropology in 2008. I have always been interested in historical archaeology, and all aspects of war. I hope to gain valuable experience to help further my career in archaeology.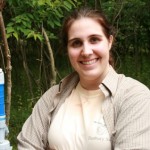 Allison Galbari, Archaeological Field Assistant
I graduated from Heidelberg University in 2009 with a BS in Anthropology. I am now working on my Masters Degree in Anthropology at Ball State University. I am very excited to be back at Johnson's Island where I have logged so many hours as a student, now as a teaching assistant. This is a great experience for me because I eventually hope to teach anthropology in a university setting.
Heidelberg College Field School 2009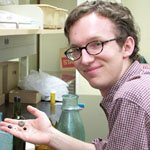 Tyler Putman
I graduated with a Bachelor of Arts with Honors from Heidelberg this May, majoring in Anthropology. This summer I am working as the teaching assistant for the archaeological field school, and in July will move to Delaware, where I will begin a Masters degree fellowship at the Winterthur Program in American Material Culture. For the last three years, my research at Heidelberg has involved studying the clothing artifacts from Johnson's Island, and considering how garments and appearance affected prisoner identity. Having begun my studies at Heidelberg as a participant in the 2006 field school, assisting with the management of the 2009 program will be a nice way to end my Heidelberg experience.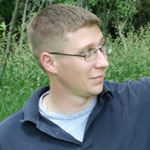 Phil Parenti
I am a senior at Kent State University, working towards a B.S. in anthropology. The Johnson's Island Field School is a great opportunity for me to gain hands-on experience, which will enable me to employ the education I have received in a real-world environment.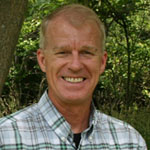 Tim Connolly
I hold an undergraduate degree in political science from Vassar College and a M.S. in teaching from The New School, and currently work as a humanitarian emergency response manager for the United Nations. I am also a licensed social studies teacher in Wisconsin. Faced with the need to obtain additional credits in anthropology to renew my teaching credentials, I looked for an opportunity to get out of the classroom and gain actual field experience. The Johnson's Island program appealed to me primarily because it was one of the few field schools offered in historical archaeology, and because of its focus on the Civil War period. I look forward over the next five weeks to learning the techniques and procedures that go into the exploration of this important site.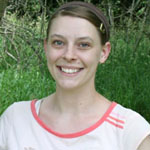 Juli Six
I am a photographer and an anthropology undergrad at The Ohio State University. I also sell handmade clothing and accessories on Etsy.com and am researching graduate programs in bioarchaeology and dentition. Johnson's Island field school is an excellent opportunity for me to further develop excavation skills and fulfill my childhood dream of being an archaeologist.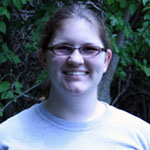 Beth Bradley
I am from Ravenswood, West Virginia, and attend Marietta College in Marietta, Ohio, where I am a senior history major and theater minor. I plan to go to graduate school, after finishing my bachelors' degree next May, for archaeology. I'm hoping to go to the College of William and Mary in Williamsburg, Virginia for my graduate work, where I will specialize in colonial American archaeology and history. Before going to graduate school, I had to do a field school. I love the Civil War era and participate in Civil War reenactments when I can. There isn't a lot of archaeology done in the Civil War era, so when I heard about Johnson's Island, I wanted to take the opportunity since it is an unusual one. In the weeks to come I would like to be able to learn as many rudimentary skills in excavating and identifying objects as possible that I can use in years to come and not have to start from scratch the next time I'm on a site.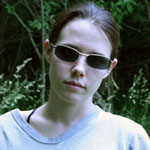 Brittany Webb
My name is Brittany Webb and I'm from California. I attend the California Polytechnic University of Pomona and I am a third-year archaeology student with technical senior status and preparing to graduate next quarter. I came to Johnson's Island because I learned a great deal about this period while living in Maryland and was interested in digging an historic site as opposed to the prehistoric desert work my school does. By attending this field school, I hope to grasp a better understanding of field methods and the ongoing activities of the field so I can better hold my temper when dealing with the results of field digs in the laboratory setting.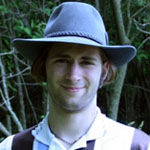 Marc Van Horn
My name is Marc Van Horn, and I recently graduated from Central Michigan University with a B.S. in anthropology and history. I joined this field school because I enjoy Civil War history and needed further field experience in preparation for graduate school in archaeology. I plan to continue on to obtain a Ph.D. in anthropology, taking advantage of upcoming specialties such as archaeomagnetism.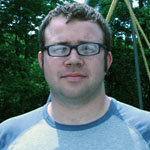 Philip Smith
I am a senior at Rogers State University in Claremore, OK, where I will graduate this summer with a B.A. in History and Political Science. I plan to seek a Masters degree upon return to my native Oklahoma, and continue to indulge my propensity to investigate all things that remain in the ground, undiscovered.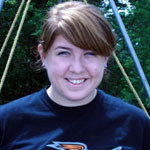 Darcy Young
I'm from Green Springs, Ohio and am currently a sophomore at Heidelberg University. I'm attending the field school so I can find out more about the archaeology field. As of right now my major is undecided, but I'm leaning towards anthropology, and my minor is history. The Civil War has always interested me and now I can study it in a hands-on way. I find Johnson's Island to be a great place to study.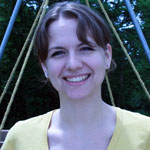 Hannah Krumheuer
My name is Hannah Krumheuer, and I'm a senior at Kent State University. I'm majoring in anthropology, with a specialization in Archaeology. I plan on attending graduate school, though I haven't made any definite plans yet. When I was little, I would lose myself in back issues of National Geographic. I've wanted to be an archaeologist ever since!
Heidelberg College Field School 2008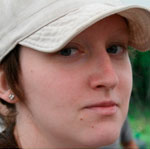 Allee Jaagumagi
I am a student at the University of Toronto, studying biological anthropology and archaeological science. The Johnson's Island Civil War Prison field school is providing me with the opportunity to expand my field experience and to learn more about historical archaeology in North America, an area of archaeology in which I would like to continue. Through the excavation on the island and associated research I hope to gain a greater understanding of the prison experience during the Civil War of both the prisoners and guards at Johnson's Island as well as improve my archaeological skills.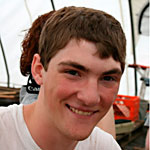 J. Robert Lucey
I currently live on the north shore of Chicago and go to school in southern Virginia, but I have never settled for staying in one place. I have lived in six different houses, visited four foreign countries, and attended seven different schools. What intrigues me most about Archaeology is the fieldwork and lab work. I enjoy working with my hands and being more than just in the same room all the time. Archaeology caught my eye and I went looking for field experience, and I found Heidelberg College's summer program through the AIA website. I have really looked forward to doing fieldwork for a while and so going to Johnson Island will be the most enriching thing I have done in my life for a long time.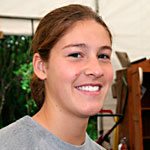 Katharine Ward
I am from Traverse City, Michigan, and am a sophomore here at Heidelberg College where I am double majoring in history and anthropology and playing soccer for the ëBerg. While I think I may want to focus on cultural anthropology in the future, I feel that this archaeological field experience will be a good background to have, and I have always had an interest for Civil War history. I also hope to become fluent in Spanish and study abroad during the next few years.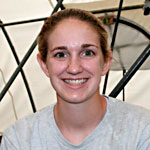 Allison Young
I'm from Kansas City, where I'm currently a junior at the College of Wooster. I am an archaeology/history double major, and I came to the Johnson's Island field school to gain archaeological experience and to learn about excavation techniques. I'm especially excited to be working here because I'm interested in military history and archaeology.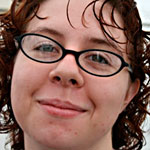 Christina May
I am an undergraduate student at the University of Evansville studying archaeology. I hope to gain a broader understanding of what all is involved in an archaeological dig though this program. I would like to eventually get into creating architectural reconstructions of buildings and hope to use the knowledge and skills gained during this field school to assist me in this goal.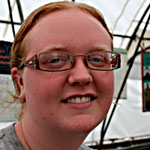 Katy Nuhfer
I am from Williamstown, West Virginia, and am currently a senior at West Virginia University, majoring in sociology and anthropology, but with an emphasis in anthropology. I am attending the Johnson's Island field school in order to gain archaeological experience because I plan to attend graduate school for cultural resource management archaeology once I finish my undergraduate work. I chose Johnson's Island because I am very interested in the civil war and historical archaeology.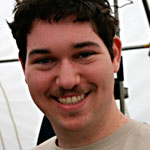 Robert M. Buchsbaum III
I hail from Houston, and I'm taking Anthropology 250/251 at Heidelberg College as a transient student in order to gain a real "hands-on" experience of what the profession of historical archaeology is like. I'm in the pre-law program at the University of Dallas, and I'm double majoring in history and education with a minor in anthropology.
Heidelberg College Field School 2007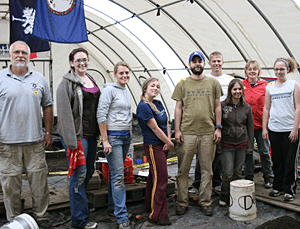 Jenny Finger
I'm from Chicagoland, more specifically Palatine. I go to school at West Virginia University and am a sociology/anthropology major and a history minor. I became interested in this field school because of the subject matter and the location. I really enjoy learning about historical archaeology and war history, so picking this field of study wasn't a hard decision.
Josselyn Imhoff
I'm originally from Toledo, Ohio, and this coming fall, I'll be a senior at the College of Charleston in South Carolina. I'm a double major in anthropology and Latin American & Caribbean studies. In the summer of 2000, I attended the Johnson's Island Helix Program. Throughout the years, my interest in the Civil War has grown and has now brought me back to continue my studies on the island.
Allison Cosbey
I'm a senior at Kenyon College in Gambier, Ohio, where I study anthropology and environmental science. Though Johnson's Island is my first excavation, I have been interested in archaeology since I was young. I chose to come here because I was intrigued by the idea of a prisoner of war camp, and I hope to develop a greater appreciation for Civil War history.
Jeff Brewer
I'm a second-year M.A. student in anthropology at the University of Cincinnati. My primary research interest is ancient Maya water management and I coordinated my own research project in northwest Belize in the spring and summer of 2006 through the Program for Belize Archaeological Project. I am excited to assist the Johnson's Island field school because of my lifelong interest in the site.
Dave Walton
I'm a junior archaeology major from the College of Wooster. I live near Johnson's Island on the shores of Lake Erie in Oak Harbor, Ohio. My previous field experience includes work with Dr. Kardulias from the College of Wooster and Dr. Brush from Ashland University. In addition to archaeology, I enjoy performing in The College of Wooster's Theatre Productions, living with my fraternity brothers of Xi Chi Psi, and swimming in Lake Erie.
Theresa Kalka
I'll be a freshman this year at Heidelberg College. I am majoring in anthropology, with a concentration in archaeology, and music performance on flute. I enjoy spending time reading, writing, singing, practicing flute and piccolo, and fishing. I decided to attend Heidelberg's Archaeology Field School to gain knowledge regarding archaeology and to have my first field experience.
Magen Schlegel
I'm an incoming freshman anthropology major at Heidelberg College. I am from Holmes County, Ohio, and decided to take the field school to see if I liked archaeology.
Amanda Manahan
I'm a sophomore anthropology major, with a music minor, at Heidelberg College. I'm from Indiana, and am involved with various clubs on campus. My hobbies include reading, music, sudoku puzzles, and enjoying the outdoors. I am very excited to participate in the field school and hope to learn a lot this summer.
Heidelberg College Field School 2006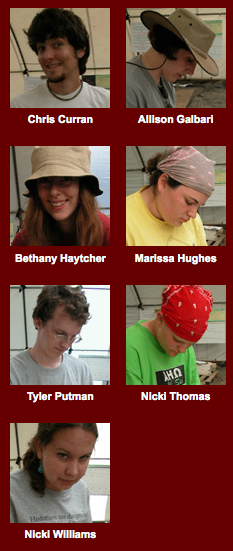 Chris Curran is currently a sophomore at the University of Florida pursuing a degree in biochemistry. Though not directly related to his major, he joined the Johnson's Island Field School to appease his interest in Civil War history and to engage in a unique experience outside his field of expertise. Having been raised in Nashville, he stands as the only southern voice among the field school participants and hopes to keep the Yankee views from getting too out of hand at the site. His hobbies include computer programming, volunteer work, and Gator athletics. Through the first week of fieldwork, he has gained an incredible respect for the nature of archaeological research and the highly intellectual requirement necessary for the interpretation of field data.
Allison Galbari is an incoming freshman at Heidelberg College and plans to major in anthropology. She became interested in archaeology through her interest in history and research, and learned about the dig at Johnson's Island through the college after applying to Heidelberg.
Bethany Haytcher is an incoming freshman at Heidelberg College, and is majoring in anthropology and minoring in archaeology. She is from Ashtabula, Ohio, a town with many historical sites in it, including a lift bridge and a house that was used for the Underground Railroad.
Marissa Hughes is currently a junior at Heidelberg College, and is an anthropology major with concentrations in physical anthropology and historic archaeology. She plans to go graduate school and concentrate on physical anthropology, specifically osteology. Marissa enjoys researching various subjects, reading, going to the park, and other college-related activities. The field school has made her further appreciate the work of the archaeologist, and has helped her to understand more of the undertakings of running and managing an archaeological site.
Tyler Putman is a graduate of Central High School in Traverse City, Michigan. He will be entering Heidelberg in the fall as a freshman. His interests include history, sailing, and the outdoors. Tyler became interested in Heidelberg and the field school after reading a magazine article about the archaeological digs taking place there.
Nicki Thomas is a senior at the University of Rio Grande. Her major is behavioral social Sciences with concentrations in anthropology, history, and sociology. She is an RA in the girl's freshman dorm. Nicki is currently looking at graduate schools and plans to specialize in archaeology with a focus on the peopling of North America or Paleolithic Europe or China.
Nicki Williams is a senior archaeology and history major at the University of Evansville. She plans to go on to graduate school and study museum studies or become a college professor.