Mystery Objects
I wanted to add a new item to this list, and take a couple of things off.  I want to thank those that helped in the identification of the ceramic bird cage water dish.  I think we can safely say that this item was part of a prisoner's keeping a pet bird in the block.  I need to leave the medical syringe plunger top, for I still have no good documentation for why there is an embossed F on the top. 
From time to time an artifact is discovered at Johnson's Island that I can't identify. Most times I can figure it out without too much difficulty, but once in a while the identity alludes me. I decided to share some of those finds with you, hoping that someone would know what these objects belonged to or how they were used. Leave a comment below if you have ideas!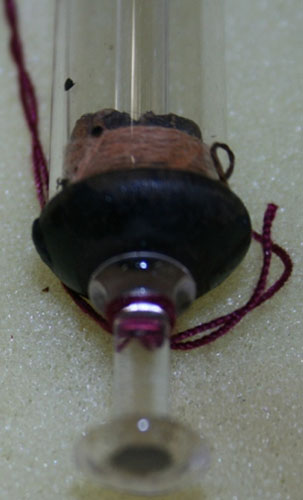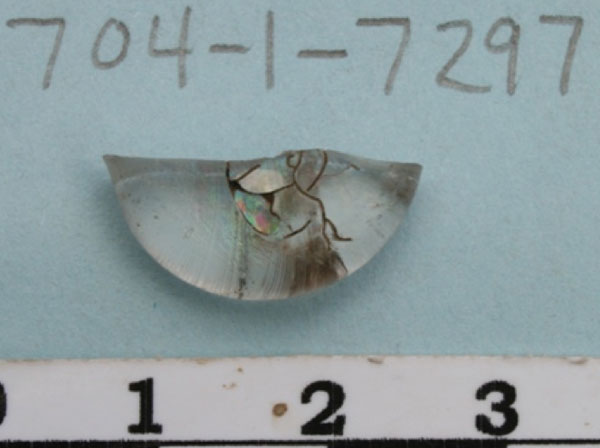 The first item we have presented before as the top of a plunger for a syringe. It has the letter F embossed at the top. The example to the right was photographed at a Civil War "show" where examples of various types of Civil War materials are exhibited. Although we could not find an example that was amber colored or with an F embossed on it, it appears to be from the interior plunger of a syringe.
The numbering system we use for our cultural material has been used for 20 years now. Originally the site was assigned the catalogue number 704, referring to Johnson's Island. The number 1 following that number refers to the Field Specimen catalogue we have developed for this site. All subsequent numbers are specimens felt to be significant enough to warrant their own identification number and storage bag. Therefore, the number 704-1-7297 refers to the FS 7297 pictured. This item is made from clear glass, circular in form and flattened, thus it is not half a marble, but is more disk-shaped. Any thoughts on what this might be are more than welcome.
Although we have found many items that we can identify, there are those few that elude us at present and FS 7309 is another one of them. It is made of copper with an edging of what appears to be silver. The silver edging is only on one side. It looks like it might be part of a sieve of some sort, but currently we have no interpretation of its use.  We have found several more pieces of this in the last year of the Block 6, hospital, excavation.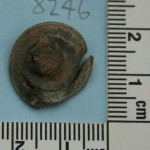 One new object (FS8246) I believe is made from Pewter.  As you can see from the picture, there is a threaded object which appears riveted into the ?top? of the piece.  There is some decoration along the edge, so it appears to be part of something else.  Any thoughs would be very helpful.
The next two objects below are two redware smoking pipe bowl fragments.  They are FS8226 and FS8193.  I have never seen this design before and would love some information on them.  If you can provide an image of the entire smoking pipe, or other relevant information about these pieces, please let us know.  Thanks for your interest.
The ideas posted to the old bulletin board have now been listed here, thanks to all who participated!
The first artifact (FS 4097) is something that has been discovered several times at Johnson's Island. It is made of copper, quite thin, and has been discovered in a couple of different sizes. It has a bit of a spring to it as well.
 
a spring from a rifle's fire-control mechanism?
a jews harp?
a spring for a drawer slide?
The correct answer is that this copper object is part of a lighting lantern.  It helps to hold in place the lamp's chimney. 
arch support for a boot?
a leather working tool?
a trigger guard?
a pen clip?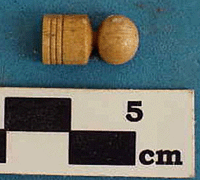 The second piece is hollow and made of bone (FS 3902). It appears to have been a small cap over something. Of course, I am not sure what it may have covered. We have found three or four of these at the site.
 
the cap to a gun powder flask, can, or horn?
a piece for a chess set?
a needlecase top?  I believe that this is the correct answer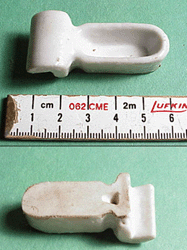 The third object appears to be porcelain. All but the bottom is covered with a clear glaze. This is the only one of these that we have recovered from the site.
 
water or feed dish for a bird cage?  This is the correct answer.
medical or sanitation item?
detachable pot handle?
 
Comments (27)