It has been another two weeks since our last update. In that time, we have continued to excavate at the location of the southern end of Block 6, the Johnson's Island Civil War Military Prison site's Prisoner Hospital. We have continued to discover hundreds of artifacts related to the medical treatment of the prisoner.
The Experiential Learning Program had its last class at the site today. Although we have been fighting the rain which is continuing to plague this portion of the country, we were able to carry on with the investigations without interruption. We are now working on our third set of four 2 meter squares, further exploring the interior of the hospital block.
One item of interest is the large number of crystal glass tumbler fragments that we have found. Additionally, we have found several forks and spoon handles. These items seem to indicate that even though the prisoners were in the hospital, they were still able to maintain a certain lifestyle reflective of their Southern upbringing. They were not eating from Union-issue plates and cups.
We are finding a few craft items within Block 6, but not nearly the numbers that we found within Block 4. The craft items that we are finding include both hard rubber and cut shell. It is interesting to think about whether the prisoners were actually continuing their craft in Block 6 while sick, or if these items were just lost from the personal possessions with which they may have entered the hospital.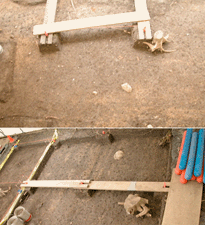 We have continued to excavate in all the units, trying to expose the features associated with the hospital building itself. Thus far, we have been unable to confirm the post hole locations. However, we have located what may be joist impressions in the subsoil as well as a large feature with brick and mortar scattered in it. This large feature (photos at right) may be associated with the brick chimney that was located at this end of the block. After all the units are mapped, we will begin excavating this feature to determine what it represents.
With the Experiential Learning program over, we will now concentrate on the interior design of the hospital and the various subsurface features that are exposed. In June and July, we will be continuing our investigations and reporting to you as soon as we make new findings.