Investigations at the Johnson's Island Civil War Prison Site by Dr. David Bush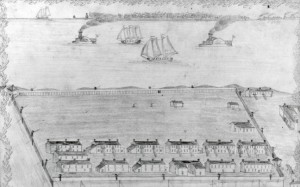 This year, our investigations are centered on Block 8 within the Prison Compound.  Block 8 was one of the 11 housing blocks used solely for holding the Confederate officers incarcerated at Johnson's Island.  In addition to the 11 general housing blocks, Block 6 was the prison hospital, and Block 1 was  converted in the fall of 1864 for housing those prisoners who agreed to take the Oath of Allegiance to the Union and thus needed housed in a separate block to keep them safe from the other prisoners.  In the past I have conducted extensive excavations at Block 4 and Block 6.  These investigations have given a good picture of the differences between use for housing or for the infirm.
The investigations at Block 8 will provide critical data on how different general housing blocks may actually produce evidence of varied activities between the blocks.  I want to be able to discuss how each housing block may in fact represent different approaches to the survival of incarceration.  This can only be discussed through intensive investigations of multiple blocks.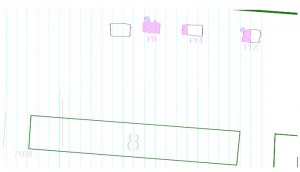 As noted in the figure above, our investigations are starting with the southern end of the block.  There were one-story extensions on the two-story buildings which appear like sheds.  Block 6, the hospital block, is the third from the right with the two extensions off the back.  The block to its left is Block 8.  You can notice the small single story extensions added to this structure.  As you can see, block 10 also has the same additions, as do Blocks 9 and 11 on the opposite row of blocks.  It has been reported these single story extensions were used as the building's messes.  Therefore, the investigation of these areas should produce mostly remains related to the preparation of food.  This should be significantly different from the comparative area of Block 4, which did not have one of these single story structures.
This year also marks the 12th year we have conducted the Experiential Learning Programming in Historic Archaeology.  We had 30 middle school and high school classes participate in this program.  This program will continue until May 25th, and then the archaeological field school will begin on June 7th.  The intent for the spring and summer's excavation is to continue the exploration of Block 8 and also explore one of the early latrines behind the block.
Our first installment for the interactive dig will be a contribution by the Lorain Early College High School classes which worked with us this spring.  There were four classes that participated in the Experiential Learning program.  We look forward to your comments and questions as we proceed with our investigations this year.