by David Bush, Ph.D.
It is my privilege to share one school's experience at the Johnson's Island Civil War Prison.  The Lorain County Early College High School brought four classes to the Johnson's Island Civil War Prison site in April, 2010 through Heidelberg University's Experiential Learning Program in Historic Archaeology.  Their teacher, Mark Jaworski (Lorain City Schools), worked with the students on various types of projects to introduce them to the many forms of information available for this Union prison.  Mark prepared several work sheets for the students to assist in exploring issues like common diseases, historical facts, vocabulary, use of primary source materials, and even the location of William Peel's grave in the Confederate Cemetery.  All of this pre-field preparation paid off, for his student's were some of the best prepared and most inquisitive 9th graders we have had this year. 
I thought I would review briefly the daily routine for students participating in the Experiential Learning Program in Historic Archaeology.  When the students arrive on Johnson's Island, their first introduction to the site comes in the form of making Anthropological observations within the Confederate Cemetery and hypothesizing about these above ground artifacts from the past.  Students walking through the cemetery almost always note the two basic styles of the tombstones, the numerous stones marked only with the word "Unknown", and the absence of any form of date on the grave stones.  Over the years, I have been able to identify over 40 observable patterns within the cemetery, and there are probably more.  The students form hypotheses about these observations, noting several different hypotheses can be proposed for any one observed pattern.  As they present first their observations and then their hypotheses, we explore the differences between something observed and the conclusions we draw from an observation.  We further discuss how to investigate our hypotheses, where to go, what kinds of sources are appropriate to use.  In the end, the students gain a glimpse of how Anthropologists use observation as a means to interpret cultural landscapes (the cemetery in this case). 
There is a very short bus ride (about 1/2 mile) to the site of the actual prison, where the students begin the archaeological exploration.  Orientation to the site takes about 20 minutes where the basics for establishing provenience are reviewed and appropriate excavation and recovery techniques demonstrated.  The students (in groups designated A, B, C, or D-corresponding to specific units) are then ready to meet with their Unit (the 2m square they have been assigned to) supervisor to begin excavation and cultural material recovery.  The majority of the day is spent in the recovery of the multitude of cultural materials at this site and hypothesizing about the type and function of each artifact encountered.  To facilitate this process, a form of Dig Bingo is played. 
At the end of the day, the Unit supervisor gathers together the student personnel for their Unit and reviews and records all the findings.  Hundreds of artifacts are typically recovered each day, ranging from chert and flint used by the Native American inhabitants centuries ago to the brick, bone, glass, ceramic and craft pieces left behind during the American Civil War.  At the very end of the experience, a student from each Unit shares with the entire class a particular artifact they felt was the most interesting.  This can be a very challenging task at times, given a Unit may have revealed over 200 artifacts in one day's excavation. 
Mark had his students prepare reports on their experiences.   He has shared portions of them with me to bring to the Interactive Dig.  I hope you enjoy reading them as much as we enjoyed having all these students share this experience.
 Experiential Learning Program in Historic Archaeology-The Johnson's Island Civil War Prison Site
The following provided by:  MARK A. JAWORSKI, Biology Teacher, Lorain County Early College High School
 Lorain County Early College High School Biology teacher, Mark A. Jaworski, and his students had the opportunity and privilege to participate in four historical archaeological digs on Johnson's Island this past April, 2010.
 "Teaching children about the natural world should be treated as one of the most important events in their lives."  Thomas Berry
 I would like to share not only photographs of our experience but reflections of some of my students who participated in these digs.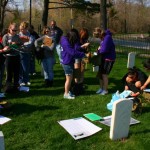 Alex  Fulton (female) writes, "The archaeological dig at Johnson's Island was a very memorable experience.  Being able to walk in the cemetery, three feet above the remains of the deceased soldiers was absolutely incredible.  As we walked across the cemetery, I could feel the sadness in the air and it made the hair on the back of my neck stand on end.  …In the cemetery, we found that the primary source, MacDowell, who stated in his diary that William Peel was buried in the fifth row from the south gate, twenty-eighth grave counting from the west.  Peel's headstone was in the sixth row from the south gate, third counting from the west.  A headstone bearing the name of J. D. Arlington was placed over William Peels burial site.            On our short walk through the woods to the dig site, we passed the red poles marking the dead line.  When we walked past those red markers, I could imagine myself being a confederate soldier and having that fear of crossing the dead line –  that fear of being shot!  I could envision myself wanting to escape, being close to escaping, and just having one thing stop me – that dead line.  The yellow and blue poles marking the corners of the barracks were also amazing.  I could picture in my mind the prisoners sitting inside the buildings in the winter, shivering, while writing letters to loved ones."
 Hector Toledo writes, " Once we got to the dig site we met the crew that would be helping us and working with us.  They seemed very professional and would prove to be very helpful.  In the end I was very thankful to of had the opportunity to participate in this dig.  I felt that I got to take part in unfolding a little piece of the past.  I hope to participate in Johnson's Island research because it truly was an enriching experience."
Phylicia Thomas writes, " I was amongst the people allowed into Dr. Bush's office for finding a special field specimen!  My day was golden.  Completely.  I had just done something I had wanted to do every second since I had heard of this  trips forthcoming!  I sat in his office, answered the routine questions and filled out paperwork as he spoke to me about the piece of embossed glass I held in my hand.  He explained to me that it was a piece of the shoulder of a patent whiskey bottle.  On this tiny piece of glass, one letter was raised; a "T" and what looked like the beginning of an "E" to spell the word P-A-T-E-N-T.  This was a piece of evidence that would help them prove the theory that the tiny little area we were excavating was the remnants of a kitchen area.  He handed me a sticker and I filled out the rest of the paperwork and looked at my artifact number one last time #8122.  This artifact would be placed with my name under it in the Heidelberg University archives.  Yes, I decided at that moment, today was perfect."
Leah Rumph writes, "  I soon arrived at the cemetery.  I was trying to locate the grave of William Peel.    I was standing on the graves of men who believed that people of my race should do inhumane labor for people of his (Peel) race."
Brittany Pirl writes, "To dig for long lost artifacts, left behind by someone whose views were so different from ours is an amazing experience.  It is an experience that many never get to take part in during their lifetime.  Archaeological digs allow people of the present to learn about those of the past who have long been forgotten.  They tell us much about people, their views, beliefs, and their culture that, without the information found, would never otherwise be known. "
Gabby Ocasio (as a ghost returning to the island) writes, "I went back to my block 8 today.  It is all gone and all that remains is dirt and pieces of my personal affects everwhere.  There were these strange people in different clothing with  weird haircuts and bright colors and very strange shoes.  The females wore bows in their hair and the males wore ear rings.  The people looked like mostly teens and older adults.  They came from this huge strange, bright yellow, gassy animal that looked like it had huge wheels where its legs were supposed to be.    What I had noticed was that they must have been looking for my block mates and my belongings since they were ecstatic when they found something.  I do not understand why they would be looking in the dirt.  Then they found something very peculiar, a piece of plate.  This had brought tears to my eyes.  It was my great grandmother's favorite plate that she had given me when she was on her deathbed.  She made certain that it was sent to me for she had heard of my imprisonment on Johnson's Island.  I had always made her hard rubber jewelry to wear around her neck."
Kyndra Downey writes, "When it was time for lunch is when I really let my imagination take over.  Dr. Bush and his assistants read journals/letters from prisoners housed on Johnson's Island.  As they were reading to us, I just let my mind wonder and really put myself into the prisoner's position.  …I know that I am very grateful that I had the opportunity to participate in this historical archaeological adventure.  I think I am going to consider archaeology as a career choice."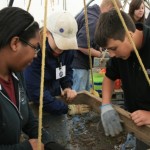 Benjamin Tillman writes, "At lunch I could take in the history of the island very effectively and journal entries from some confederate prisoners were read as well.   This was very interesting because I could hear exactly how the prisoners were feeling and what they were doing in prison.  The readings put into perspective that these were real people being held at this prison.  It wasn't just words in a book to me anymore.  It was reality, a cold hard reality that I could feel."
Victoria Soewarna sums it up best when she writes, "  This experience for me was amazing and overwhelming at the same time, the view of Lake Erie was beautiful, the stories that were told from the diaries of the imprisoned soldiers were heartfelt and the artifacts told a story.  A story that I personally will always remember.
(DRB note) Thank you Mark for providing such a rewarding experience for your students.